The bigger picture
The context for the plan is shaped by wider social, economic and environmental issues facing rural Carmarthenshire including technology, climate emergency and decarbonisation, the ongoing impacts of COVID-19 and leaving the European Union (Brexit).
The strategic context also includes priorities of Carmarthenshire County Council, the Swansea Bay City Region and the Welsh Government, along with the growing influence of the Well-being of Future Generations (Wales) Act and local Well-being Plans.
A key aim of the Act calls on public bodies to be more agile to ensure they are able to respond to ever-changing economic circumstances and to maximise new opportunities for growth. Sustainable development is applied throughout, as well as new ways of working ensuring that local authorities take account of the long term, prevent problems occurring or getting worse, and adopt an integrated and collaborative people-focused approach.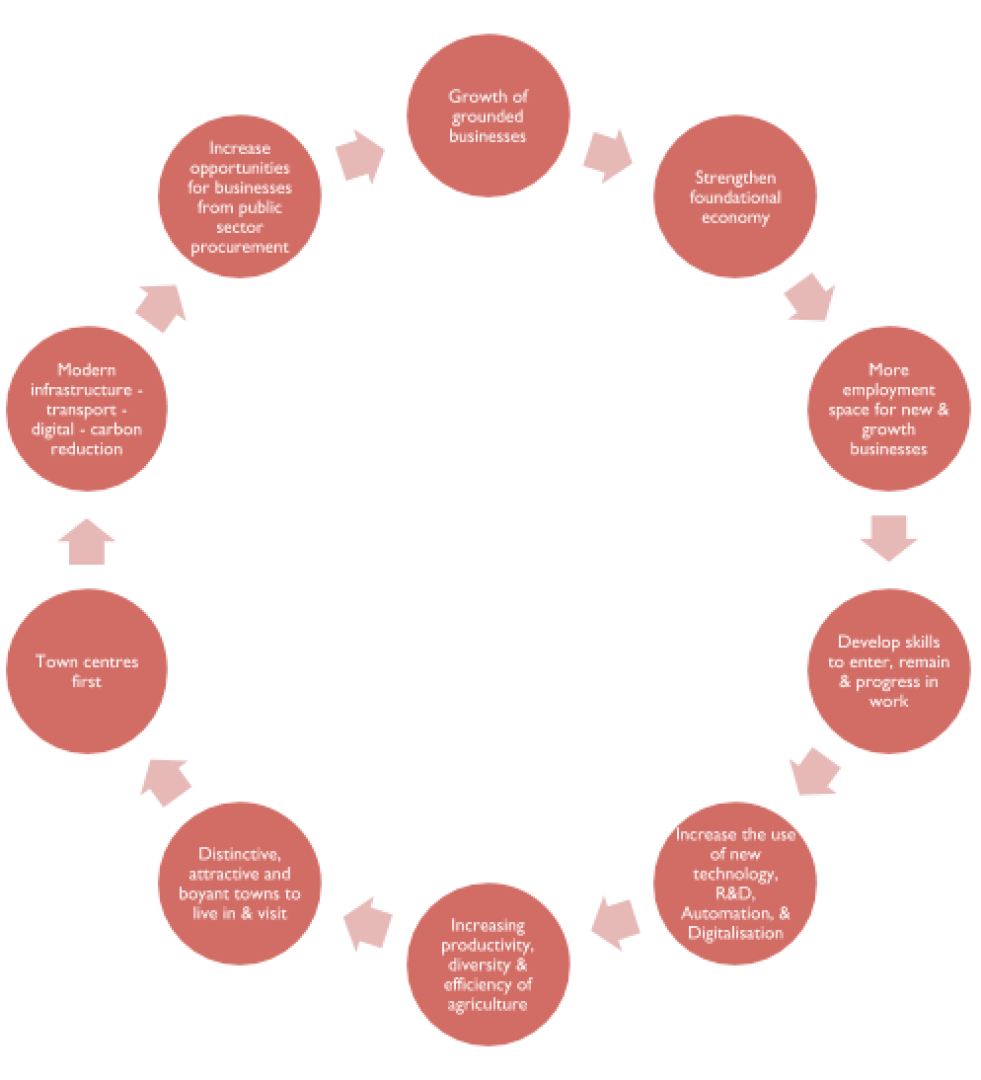 Llanybydder today
Llanybydder is a small market town located at the northern fringe of Carmarthenshire within the Teifi valley which serves a wide rural community on both sides of the river including Pencarreg, Llanllwni, Highmead and Alltyblaca.
The economy is primarily based around the agricultural sector and the towns major businesses are the Livestock Mart and its significant employer, Dunbia (meat processing).
Llanybydder is positioned on the A485 that connects the town with Carmarthen although its closest centre is Lampeter to the northeast (5 miles) which locally acts as the main employment, retail and service centre.
It is characterised by a small retail centre geared towards the local day to day shopping, trade and service needs of the rural community. Outside of the town, the locality supports a wide range of agricultural and land-based industries, engineers, construction and manufacturing. There are several examples of food and drink, and tourism together with professional and lifestyle businesses.
Llanybydder serves an important localised retail and service, social, employment and education role for the wider rural area including its surrounding settlements.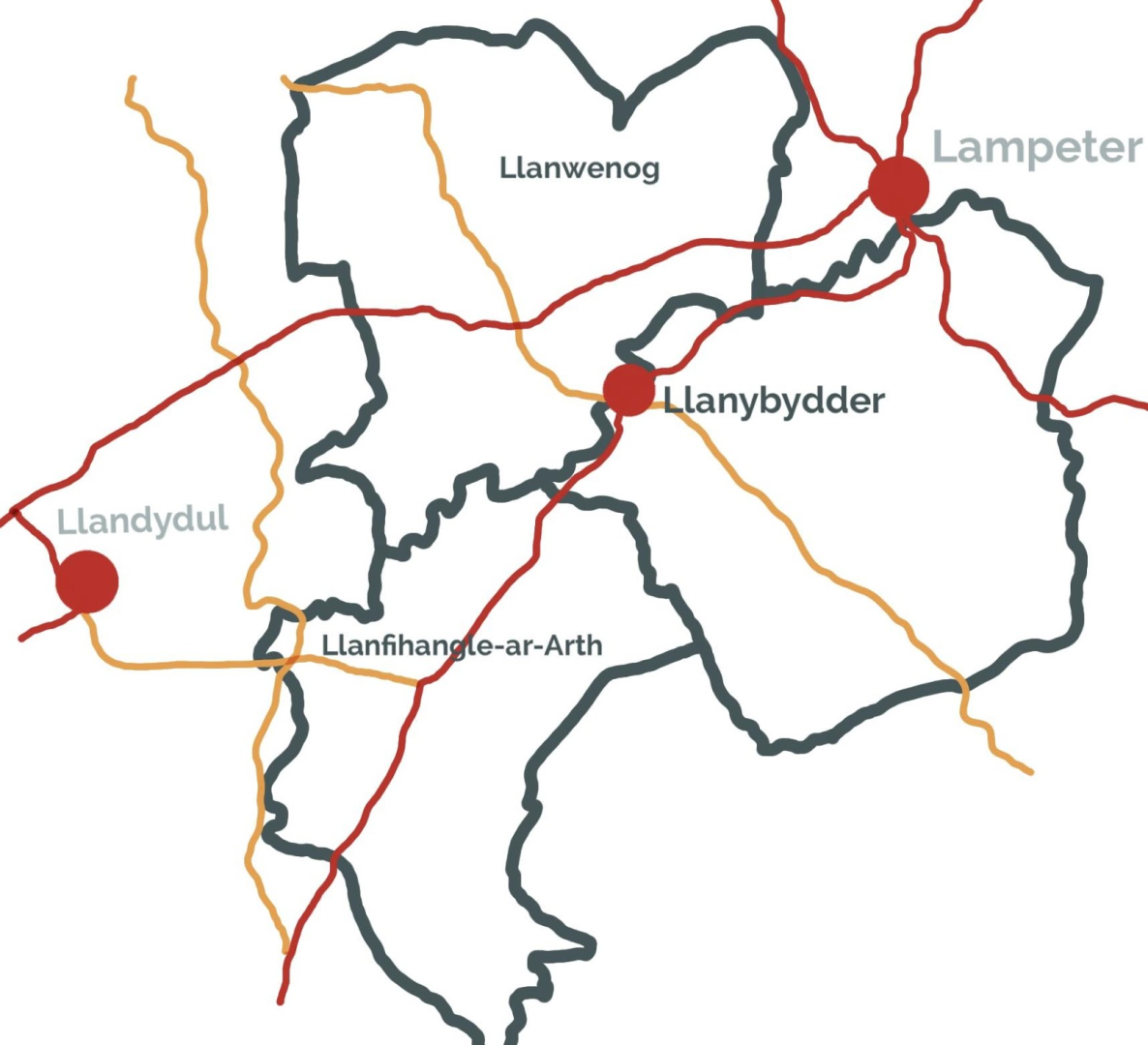 Socio-economic picture
The population of the Llanybydder hinterland is 7,430 and includes 2,800 living in the built-up area of the town. In comparison with rural Carmarthenshire - within the last ten years, the area has experienced:
small population decline

a growing older-aged population

decline in the working-age population

average economic activity and full-time employment

lower than average household incomes

lower-skilled local economy

higher than average employment in agriculture

higher than average levels of home working and self-employment

above average house prices

6% decline in the ability to speak the Welsh language between 2001-2011
The data shows a large part of the local economy is dependent on part-time, low skilled and lower wage incomes.
| | | |
| --- | --- | --- |
|   | Rural County | Llanybydder area |
| Population | Increase 1.8% | Decline 1.1% |
| Working age | Decline 3% | Decline 4.3% |
| Gross household income | £28,622 | £25,600 |
| Median house prices | £135k | £154k - £180k |
| Economically active | 66% | 67% |
| Full-time employment | 33% | 32% |
| Work from home | 7% | 10% |
| Self-employed | 14% | 18% |
| Largest occupation | Skilled trades 19% | Skilled trades 27% |
| No skills | 25% | 30% |
| Higher qualifications | 30% | 28% |
| Employed agriculture | 6% | 11% |
Sources: ONS Census & NOMIS - Baseline study


Businesses and employment
The Llanybydder area is highly reliant on agriculture and a diverse range of business activities locally are linked to the sector. Residents are also reliant on Lampeter, Carmarthen and to a lesser extent Newcastle Emlyn for their employment.
Dunbia dominates the local economy with the meat processing facility employing some 600 staff and is also a significant employer for the region. The livestock mart also dominates the town and holds regular weekly and monthly sales that serve south-west Wales and is known to have increased activity following the closure of Cardigan mart. Llanybydder mart is also renowned for the regular horse fairs which is one of the biggest held in Europe.
There are over 55 identified businesses in the Llanybydder area, the majority in private local ownership across a variety of micro, small and medium-sized companies particularly workshop, storage, services and quasi retail /supplies businesses. A large number of businesses are scattered across the settlement and its outlying communities and includes the specialist and internationally renowned Jen Jones Quilts.
The largest employment sectors are identified as follows:
15% wholesale and retail trade
13% human health and social work
11% agriculture
The largest employment site in the town is occupied by Dunbia with other important employment locations at the Old Foundry site occupied by Cawdor Cars and various commercial uses at Station Terrace (including lorry garage and building & timber supplies). The livestock mart also occupies a large part of the town centre.
Located outside Llanybydder there is a large employment site to the south of Glan Dua (occupied by Foundry Commercials and storage for the National Eisteddfod of Wales) whilst the fully occupied Llanybydder Industrial Estate at Ty Mawr provides three units and is the only purpose-built employment estate in the area. In addition, various standalone premises are located along the B4337 and A485 (e.g. garage sites and agricultural/building supplies) together with established businesses at countryside locations close to Alltyblaca, Llanllwni and Glan-Dua.
The local commercial market is characterised by:
The dominance of light industrial, storage and quasi retail stock, much of which is of a secondary dated quality
Localised levels of demand with high levels of occupancy
Shortage of modern industrial premises and starter units
The lack of an available supply of suitable sized employment premises is reported to be a major problem for local businesses in terms of helping them to expand (especially for unit sizes 2,000 – 4,000 sq. ft) together with suitable affordable premises for new business start-ups.
Town economy
The local retail offer and services are located around the traditional centre at Market Place/Bridge Street as well as the A485/B4337 crossroads.
The number of retail businesses has been in decline in recent years, but there are two convenience stores (Londis and Nisa) together with bakers and specialist deli. By contrast, the comparison offer is very limited but specialist including a kitchen supplier, car sales and farm supplies. There are also hairdressers, pharmacy and indoor children's play centre. The highly localised nature of the retail and service offer is unsurprising given the small scale of the centre and also the proximity to Lampeter.
There are several café/takeaway and public houses that serve the passing trade along the A485 together with market day trade. The evening economy offer is limited to the traditional pubs and takeaways, however, there is a more contemporary restaurant offer with accommodation located at The Cross Hands Hotel.
The centre also has an important community function including the local rugby clubhouse. Outside of the centre, there are important facilities at the Old School community centre and gym and Llanybydder family centre.
The mart and surrounding agricultural community is recognised as the mainstay for many of the town centre businesses including the agricultural supplies merchants, auctioneers/valuers/estate agents, garage/sales and NFU offices. There is also a small produce market (2-3 stalls) held to coincide with some market days. In addition, several professional services operate from small offices in Market Place and the Station Terrace area.
There are no bank facilities in the town except for an ATM at Nisa. The nearest banks are located in Lampeter and Carmarthen and visits from the Natwest mobile bank (30 minutes on a Tuesday).
Overall, the retail centre of Llanybydder appears to have lost many of its retail and service businesses and no longer provides the critical mass expected from a traditional town centre. The users and activity from the Mart appear to underpin many of the retail and service businesses that continue to trade from the centre.
Visitor economy
Llanybydder has a limited offer as a tourist destination although offers a base for visitors to the Teifi valley. It is famous for its horse-trading tradition through its monthly horse fairs which attract buyers from across Europe. This is unique to Llanybydder, especially the largest sales meets held in September and October. Jen Jones Welsh Quilts represents another business known for attracting international visitors.
There are modest levels of accommodation available with the Cross Hands Hotel (and until recently the Black Lion Hotel) offering guest accommodation together with several B&B establishments. Several self-catering cottages are available to rent locally along with camping and caravan site provision.
The natural attraction of the local area is considered to offer good potential to develop and grow its tourism appeal, driven by the growth in the staycation market and agri-tourism. The location on the A485 provides the opportunity to intercept and encourage visitors to stop in the town when heading to the coast and further inland.
The quality and isolated countryside location combined with the River Teifi represent key attributes for outdoor recreation activities, particularly walking and cycling (road and mountain biking) which offers an alternative holiday option to the more rugged Brecon Beacons to the east. Opportunities could also build on the rural crafts and artisan sector locally by offering visitor experiences and courses on traditional craft skills.
The cycling appeal of the area is promoted in Discover Carmarthenshire as part of the Big Wilderness Adventure and Teifi River Tour which promotes Llanybydder as a stop-off location. Sustrans National Cycle route 82 also passes through the town.
Brand and marketing
The level of marketing for the Llanybydder area is relatively limited and is primarily focused on several websites such as Llanybydder & Rhydcymerau Community Council which provides an overview of local history, events and council meetings. The county-wide Discover Carmarthenshire promotes the local area primarily as a cycling destination whilst Tripadvisor has very limited entries for Llanybydder.
The majority of social media presence is through local Facebook groups with a good number of active forums, including the Village Committee, Community Support, Rugby Club and Old School Community Centre and Gym. This is complemented by existing businesses marketing through website and Facebook presence.
The level of locally organised media presence, especially via Facebook, is well established although an enhanced online presence would help to greater promote the attributes of the area and its local businesses (for example; Jen Jones Welsh Quilts & Blankets appears in Trip Advisor as a destination in addition to a business in its own right). The scope exists to promote a modern branding and an updated profile of events, offer and community talent.
Transport and movement
The roads serving Llanybydder are largely a network of rural A and B and lower classification roads. Connections are largely fragmented travelling north to south and more direct travelling east to west. The main challenge is in providing sustainable integrated transport for the area.
Llanybydder has a very large visitor/shopper car park for the size of the centre at Station Terrace with plenty of on-street parking opportunities.
Travel to work patterns provides a picture of commuter behaviour and understanding of the number of people travelling from the town area to a place of work (shown red) or from another place into the town for work (shown blue). The figure indicates how Llanybydder is reliant on Carmarthen and Lampeter for employment.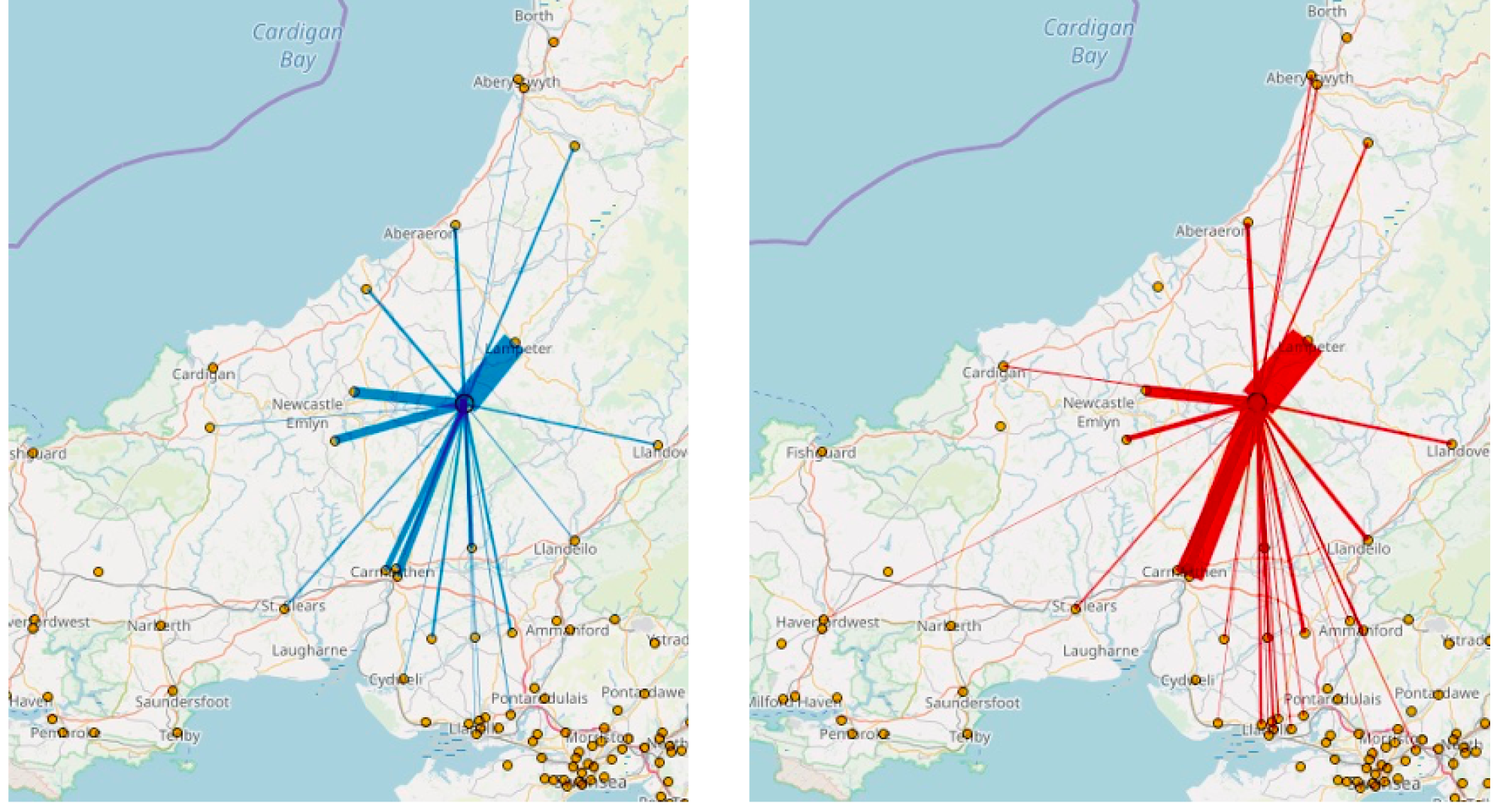 Source: 2011 Census - DataShine: Commute
Broadband and digital connectivity
Whilst Llanybydder appears to have good connectivity, it is clear that there are significant areas in the wider hinterland with broadband speed difficulties including Aber Glar, Alltyblaca, Pencarreg, Rhyddlan and Ty Mawr. For example, slow speeds affecting the businesses have been reported by the occupiers of Llanybydder industrial estate.
A recent Ofcom survey found 489 (52%) out of a total of 936 premises in the Llanybydder postcode area have non-superfast broadband.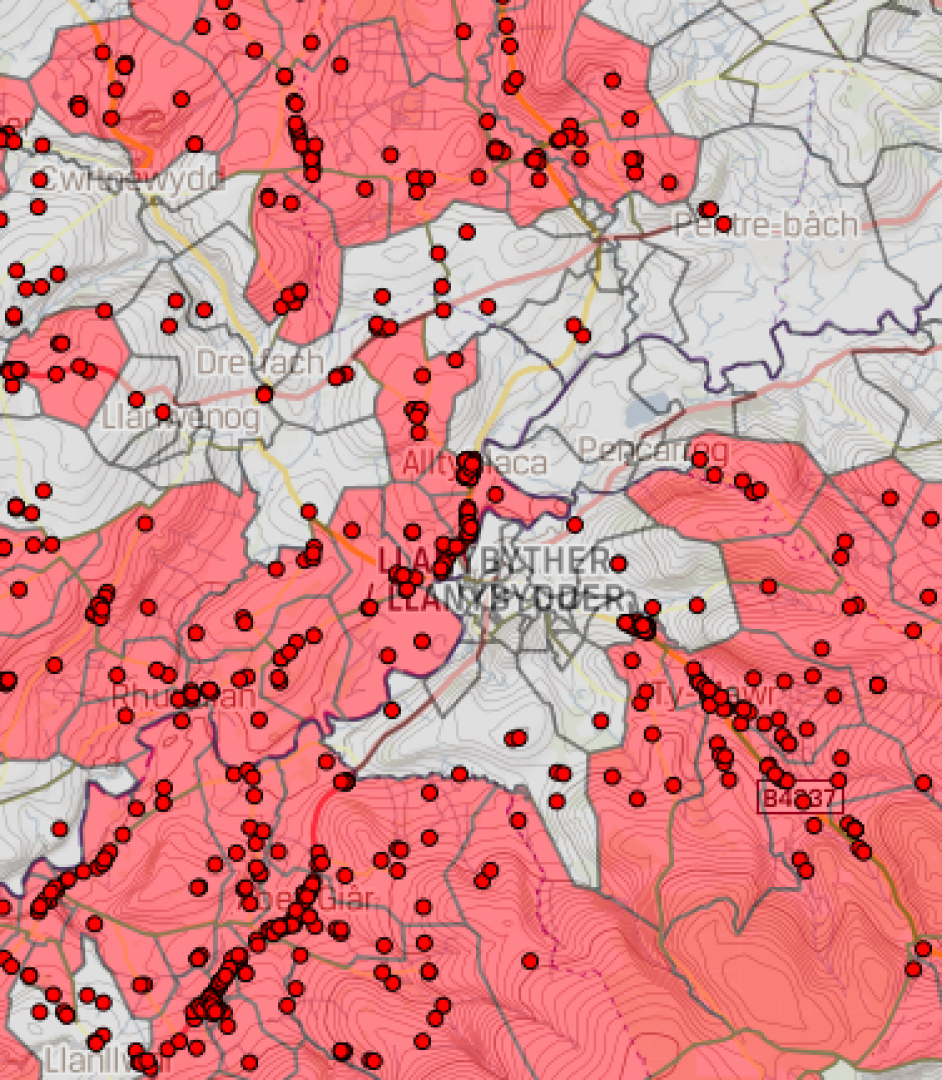 Source: Ofcom https://checker.ofcom.org.uk/mobile-coverage
Planning, development & environment
There have been low levels of development activity (commercial and residential) in the area over recent years except for some small-scale residential development on infill sites and a reliance on local developers to bring forward housing.
The Revised Carmarthenshire LDP does not consider Llanybydder a focus for significant new development with the LDP planning a reduction in the number of new housing allocations. However, three sites totalling 63 units have been identified as well as a number of proposed housing sites at Llanllwni (for 16 units). The allocation of a range and choice of sites is considered essential for supporting the delivery of a mixed type and tenure for Llanybydder which has been largely absent over recent years.
Land is also allocated for new employment uses at the Old Foundry which represents the main opportunity for commercial development in Llanybydder. This area also provides scope for much wider site redevelopment with surplus land that provides opportunities for a much wider commercial and mixed uses development.
Outside of the town, two locations with the potential to support the development of new employment include:
Llanybydder Industrial Estate at Ty Mawr - cconcern has been expressed that policies that protect this employment site have also been removed in the current version deposit LDP
Foundry Commercials site at Glan-Duar.
In terms of environmental constraints, the River Teifi has been the cause of flooding to parts of the low-lying town centre and is a restraint on the growth of the town to the east and north.